Chelmsford Ladies Circle members
Committee, April 2020 to April 2021
President: Velda Curry Chairwoman: Sophie Ellam Vice Chairwoman: Ellie Menown Secretary: Lindsay Griggs Membership Officer: Tamasin Curtis Charity Officers: Claire Roe and Jess Scrivener Social Officers: Sarah Smith and Maryam Khorasani Treasurer: Bryony Ling Immediate Past Chairwoman: Juliet Townsend
Charity of the Year Safer Places
Members, April 2020 to April 2021
Brenda Stamatio, Bryony Ling, Charlotte Mclean, Claire Roe, Ellie Shaw, Emma Rolison, Gaby Smith, Jess Scrivener, Juliet Townsend, Karen Petty, Lindsay Griggs, Lindsey Mason, Vicki McGinn, Maryam Khorasani, Rachel Copeland, Rosie Wren, Sally Radbourne, Sarah Smith, Sara Tupper, Sidney Macdonald, Sophie Ellam, Tamasin Curtis.
The reasons I joined...
Tamasin Curtis
I looked into joining Ladies Circle as all my friends were starting to settle down and I was not and my social life was starting to dwindle. I thought about going along to a meeting for about 2 years but kept putting it off thinking that it would be cliquey and that I would not be welcome. I finally went along to my first meeting in May 2012 and have never looked back. I was immediately welcomed as one of the girls and since then I can count at least 20 new close friends that I have made through Ladies Circle and lots more friends to be made! My social life is also very busy and it's nice to be out and about regularly! You really do make friends for life.
I also get a lot out of the charity element of Ladies Circle. Locally it was a great feeling to raise funds for the Women's Refuge, Canine Partners and Farleigh Hospice in the last three years. Also, nationally we have raised funds for Whizz Kidz provided them with 5 new wheelchairs and also funds for Sckin a skin cancer charity.
I have been very active in Ladies Circle and I jumped at the chance to go to different national meetings and international meetings. I have been to Blackpool, Harrogate, Leeds and Nottingham on national jaunts and internationally to Germany, Estonia, Vienna and even Mauritius!
If you are interested in coming along to a meeting please do give us a go, we are actively looking for new members as we think it is the more the merrier! Also, I know how nerve wracking it can be going along for the first time to a meeting and so pleased be assured that we were all there once for our first meeting and we are a friendly bunch!
Sidney Moore (Chairwoman)
I moved to Chelmsford in 2012 when I moved in with my fiance (now my husband!) and didn't know many people. As my husband is a member of the Round Table, I thought I would give Circle a try. I love that there is something to get involved in at least twice a month, and there is no pressure to attend anything. The friendships and laughter are an added bonus! There is a variety of events planned, and we have even been to Germany and Austria for Circle events. My favourite event is the annual Burns Supper and I love the opportunity to try new things, which have so far included gong relaxation, life drawing and sweetie making.
Lindsay Griggs
I decided I needed to get off the sofa and do something with my life before I got too old! I saw an advert for Chelmsford Ladies Circle in the Weekly News, they were having a new members night, so I decided to go along and see what it was all about. On arrival I was presented with a large glass of wine and a cupcake, I was sold! It's a great way of trying new things, making great friends and having fun... with the added bonus of raising money for charity.


Juliet Townsend
After 10 years in London, in 2011 I moved back to Essex with my husband to be near my family and get back out to the countryside with my two dogs. In 2013 was missing having a gaggle of girlfriends to hang out with locally, so I joined Circle to meet new people in Chelmsford and to support local charities. I love the friendliness of Circle and the social activities and particularly appreciate the relaxed nature of this group of women who all lead busy and interesting lives. As well as the official activities of the club I have enjoyed developing friendships outside the club nights, often meeting a like-minded Circler for lunch or to go to an interesting event. I enjoy that way that everyone can get involved with the organising of events, including developing new ones. I have developed a wide range of skills by being part of the team running Circle events.
Sara Tupper
Ever since I was little I was always very aware of Ladies Circle as my mum Natalie was a member and my dad was in Round Table. Having grown up surrounded by amazing people and making friends with lots of the 'Children of Table & Circle' I always knew that I wanted to become a member when I was a 'Grown Up'!! I joined officially in 2012 and am so glad I did. I have made some great friends and got to take part in lots of fun, weird and wonderful activities – I'm still adamant it wasn't me snoring during Gong Relaxation! Now I'm married and have started my own family, I look forward to the next few Circle years and what they have to bring.
Sarah Smith
I moved to Chelmsford in 2014 with my husband in the hope that we would like the area enough not to move again. So we wanted to make new friends. I had already been a member of Ladies Circle a few years before but in a different area. Although at the time it did not work around my job, I did remember the girls being fun and friendly and always doing interesting things, so I thought I would give it another go.
Circle is great, the girls are a friendly, welcoming and caring bunch and with lots of different things to get involved in both charity and social. For me, Circle provides a brief break from working with a bunch of men on a construction site and most importantly friendship. I liked Ladies Circle so much that in 2015, with Sara T, we both agreed to become the Social and Charity Planners and it looks like a fun and interesting year ahead.
The event that I have enjoyed the most is our Charter Night with a Jiving 50s theme that got everyone on to their dancing feet. Plus there has been a few others from the more sedate life drawing class to Burns Night Celebrations.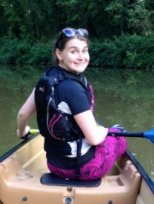 Ellie Shaw
I joined Chelmsford Ladies Circle in 2015 after moving to Chelmsford with my partner. I didn't know many people in the area, mostly my partners family and friends and wanted to build my own network. All of the ladies were very welcoming and I liked that there was a range of activities on offer which I could choose from, attending as much or as little as I liked. Working and commuting to London also means you lose a sense of community and circle helps to re-build that. The charity and community events are a good way to give something back.