The Ladies Circle Family...
Ladies Circle is a local, national and international organisation.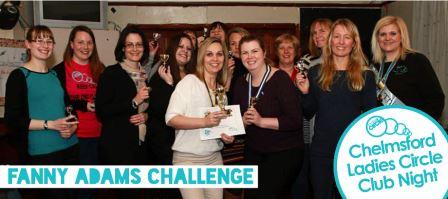 County
The Essex Area currently has 6 circles - Chelmsford, Clacton, Southend, Saffron Walden, Colchester and Witham - and we try and meet up with the other Circle girls a couple of times a year. Each year there is a competition called the 'Fanny Adams Competition' (we have no idea where the name originated from!) where the difference circles in the area get together to play silly games until there is an ultimate winner. In 2014 Chelmsford Circle were the winners after winning a spaghetti tower building competition and sharpening our elbows for musical chairs, however we lost the title in 2015 after a questionable game involving tights over heads and swinging balls!
National
Our club is a member of the National Association of Ladies Circles of Great Britain and Ireland. Circlers can attend different National events such as regional lunches and also the National Conference each year which is a an joint event with Round Table and takes place in a hotel somewhere in the UK. The National AGM is held along side a lot of drinking!
International
Circles around the world, including us, are members of Ladies Circle International. Each year we have a meeting for the Europe area which a few of us from Chelmsford try to attend. There is also an international meet for the AGM in August of each year.
Get as involved as you want...
A lot of Circlers just stick to their local circle and there is no pressure to do anything more than that. However there is the opportunity to get involved with the area, national and international events and it is a great way to make new friends and visit new places if you want to!