The Chelmsford Marathon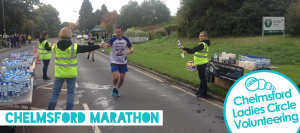 Chelmsford Ladies Circle have volunteered at The Chelmsford Marathon since it began in 2014. The water station outside Writtle College has become our patch, where we cheer the runners on whilst handing our water and energy bars to passing runners. The runners are always very polite and it is a very rewarding event. We usually organise two time slots for our volunteers: 8.15-11.30am and 11.15-4pm.
The Chelmsford Marathon is organised by and in aid of The J's Hospice, which provides hospice and respite care in Essex
for young adults with life limiting and
life
threatening conditions.