The Chelmsford Marathon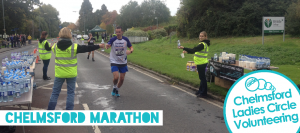 Chelmsford Ladies Circle volunteered at The Chelmsford Marathon in 2014 and 2015 by manning a water station. The girls, in high vis, handed out water bottles, cups and energy bars to runners as they passed. The runners are always very polite and it is a very rewarding event.
The Chelmsford Marathon is organised by and in aid of The J's Hospice, which provides hospice and respite care in Essex
for young adults with life limiting and

life
threatening conditions.